Plating on Ceramic/Alumina PCBs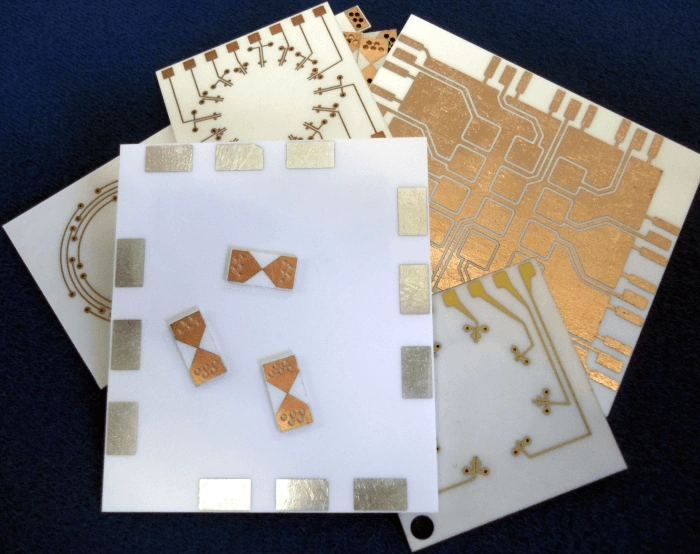 Plating on Ceramic/Alumina PCBs is one of our specialities. Single and double sided Alumina (Al203) printed circuit boards. ENIG, Silver, HASL and plain copper finishes.
PW Circuits continue to work closely with several of our chemical suppliers, material suppliers and our customers. We continue to develop new and innovative techniques for plating on Ceramic/Alumina PCBs
We produce both single and double sided (PTH) PCBs on various exotic ceramic substrates like Alumina and Macor. Alumina (Al2O3) and Aluminum Nitride (AlN) are environmentally-friendly substrate materials to replace BeO (Beryllium Oxide). Working with your RF resistors and terminations for high power application ceramic PCBs.
More information including data sheets and typical property values can be found on our ceramics material page.
We have a large range of expertise to call from in house, management, process engineers, and our laboratory technicians. Having access to a wide range of external contacts from differing backgrounds and fields adds to your confidance.
We can offer full ceramic processing from sourcing the base ceramic, copper plating, imaging and etching. Also able to surface plate different finishes, Nickel, Gold, Silver, Copper, Tin, Tin-Lead. Laser drilling/profiling is also a service we provide.
PW Circuits would like to work with you on any projects that require plating on Ceramic/Alumina PCBs. Please contact a member of our sales team for more information.
Don't forget to visit our YouTube channel too for some great video's on PCB design and manufacture.